Episodes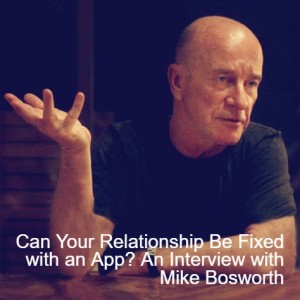 Friday Oct 14, 2022
Friday Oct 14, 2022
How can a mobile app help your relationship? Why is it so difficult for men to access their feelings, and describe them to their partners? How does the human capacity for adaptation sometimes work against growth in relationships? In this episode, we interview Mike Bosworth, who works with his partner Jennifer Lehr, MFT on an app called WeConcile. 
We also handle a listener question from a woman who wants to know how to get her husband to work with her on improving their marriage--when he just wants to blame her for being too sensitive.
Dr. Chalmer's book Reigniting the Spark: Why Stable Relationships Lose Intimacy, and How to Get It Back is available wherever you get your books, or go to Dr. Chalmer's website. https://brucechalmer.com. And watch for Dr. Chalmer's forthcoming book, It's Not About Communication! Why Everything You Know About Couples Therapy is Wrong.
Like this podcast? Review us, like us, follow us, and do all those other kinds of wonderful things to us! It helps people find the show. Visit us at https://ctin7.com!
Music: Besamim (Spices) by Bruce Chalmer, performed by Fyre and Lightning Consort